You read that correctly!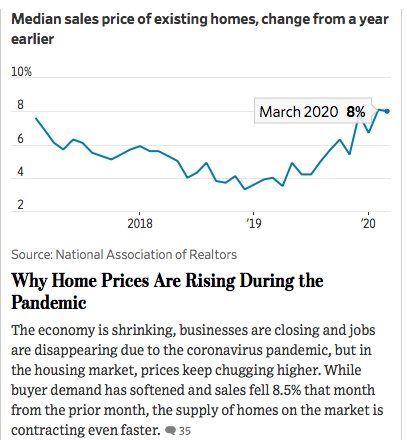 The Wall Street Journal reported that March home sales were up 8% across the united states. The real estate market progresses forward and holds strong against trying times. Although some sellers have removed their homes from the market for sale or have held against putting their home on the market currently, buyers are still purchasing against the common belief that sales will fall. We are still seeing that mortgage rates are at all time lows that buyers are still taking advantage of locking in those great low interest numbers.

In the early parts of April 2020, mortgage rates were as low as the high 2's. Many financial institutions and mortgage lenders were overwhelmed with home sellers refinancing their existing mortgages into the lower rates, affording them a lower monthly payment. This caused the supply and demand affect throughout the industry and inflated the interest rates towards the 4% range.

The local real estate market, specifically the Portland Metro area in Multnomah & Clackamas counties, homes "SOLD" increased. With the lack of inventory and the amount of active buyers on the market, sales are expected to increase even further.

By this table we see the amount of inventory decrease and the amount of pending homes increase in just the last 4 months. Pay close attention to the dates.
Since things have calmed down, interest rates are again steadying in the mid 3's range. Very low and very affordable rates allowing potential home owners to secure a mortgage! This positions new home owners to get into a great home.
SO if you are thinking of selling and wondering if there are any buyers, I can assure you, they exist and are just searching to find the right home.